California is nicknamed the "Golden State" and has always been a land rich with opportunity. From the early pioneers who relocated with kith and kin to search for gold to modern dream seekers who board a bus chasing their big break, people are drawn to California. It's a place where anything is possible!
The parks in California capture this same spirit of adventure and opportunity. Every playground has its own story about why it was built and what purpose it serves in the community. Read on to learn about three California playgrounds[PK1] that are full of heart.
Knabe Park - A Custom California Playground on Catalina Island
Knabe Park is a custom California playground that captures the heart of Catalina Island through nautical theming. This park features a custom pirate ship climber, accessible poured-in-place (PIP) rubber playground surfacing, and a friendly whale climber stopping by for a look.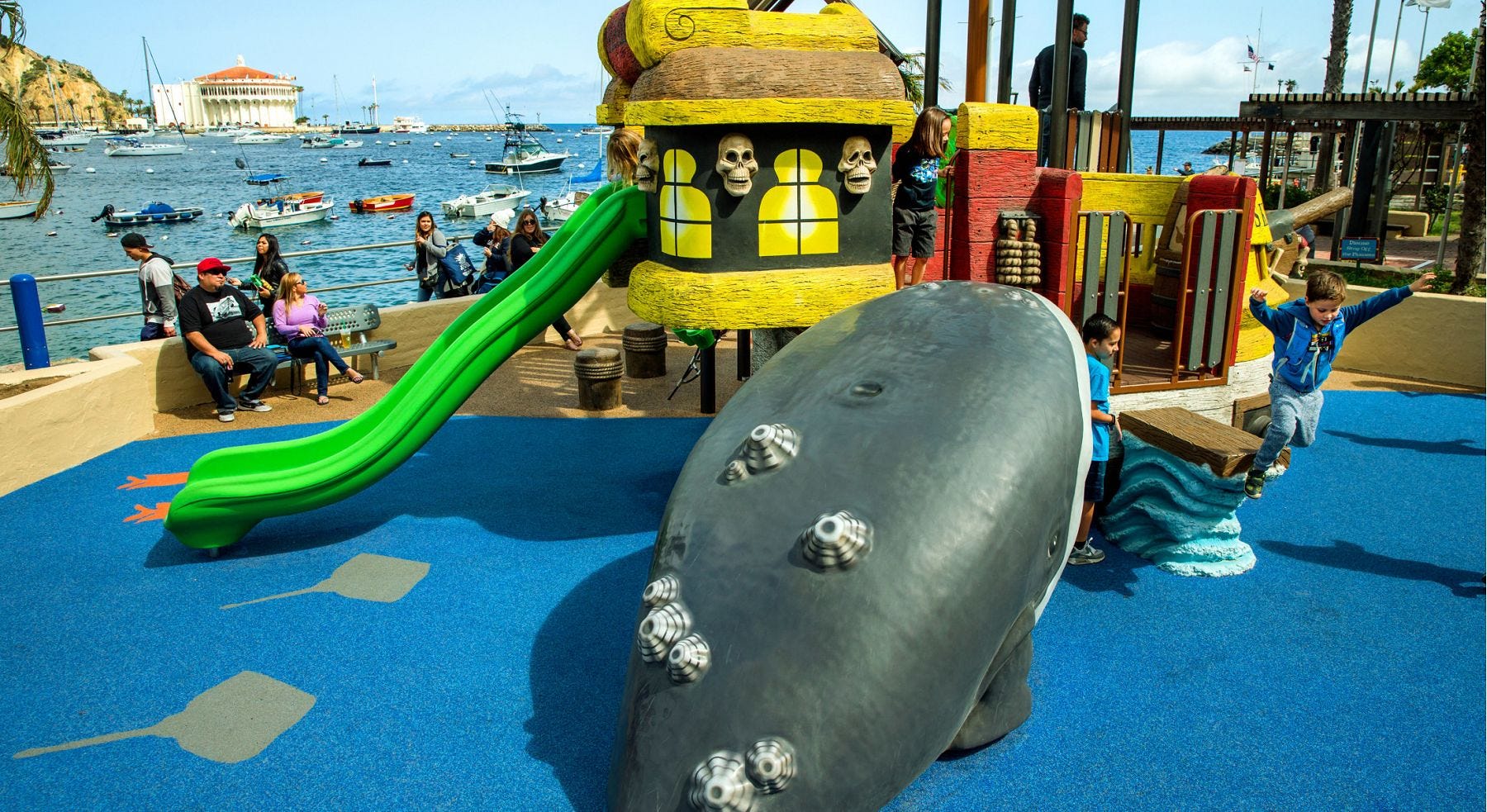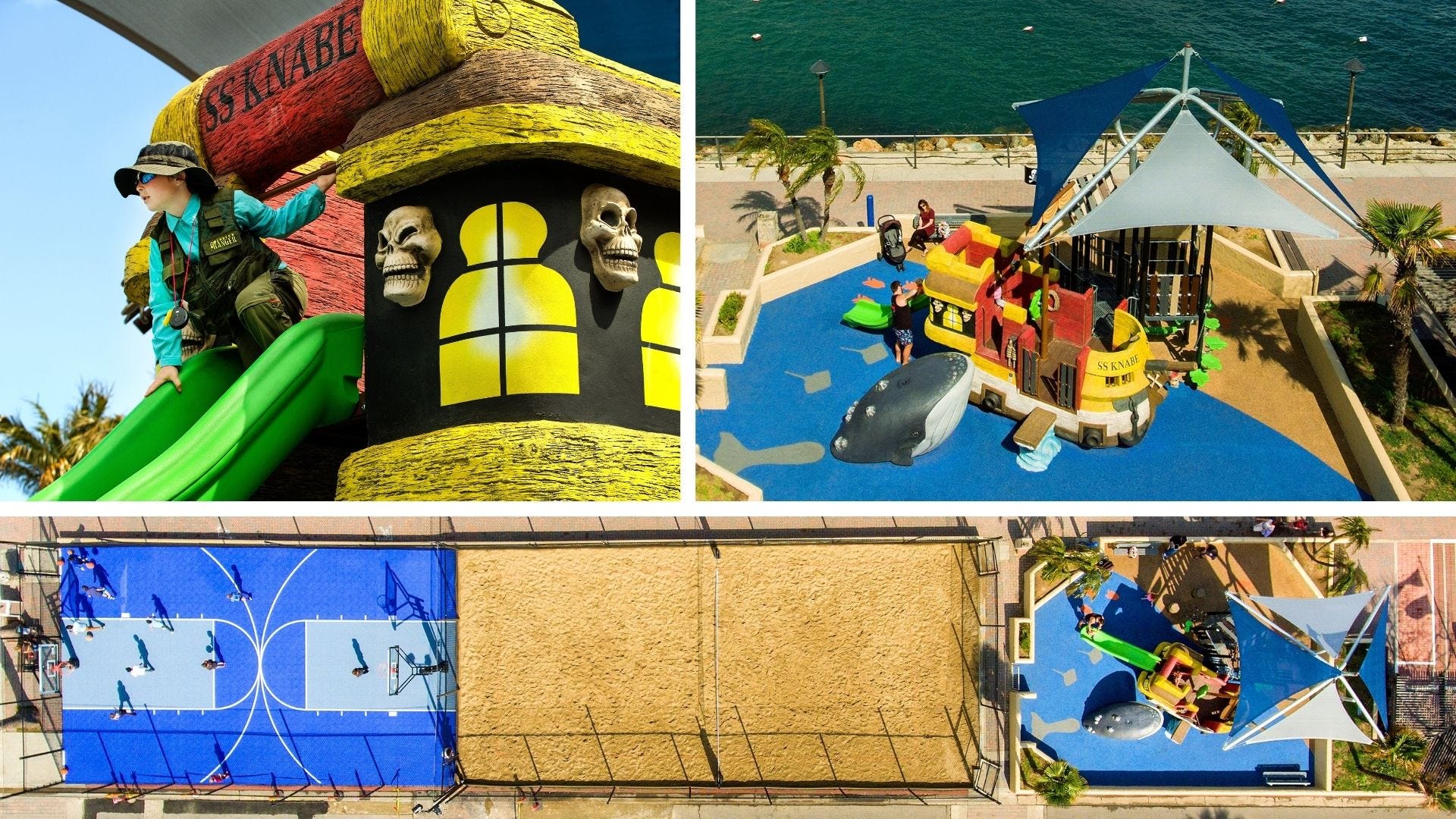 This playful space, located right along the shore, has a picturesque view of the harbor. There are also basketball and beach volleyball courts for the older kids who want to break a sweat among friends.
Whether you're adventuring on the SS Knabe, playing a game of beach volleyball, or want to enjoy the view of the harbor, there's something for everyone to enjoy at Knabe Park.
Larry Gury Park - Outdoor Fitness for Teens and Adults
What do you associate local parks with? Maybe you think of a fun playground with a couple of pavilions for parents to watch their children. Perhaps your local park even has a basketball court or a walking path. No matter what your local park looks like, there always seems to be one common denominator- there aren't always options for adults.
Deep in the heart of Sacramento is a park designed for adults to focus on the health of their hearts and the rest of their bodies.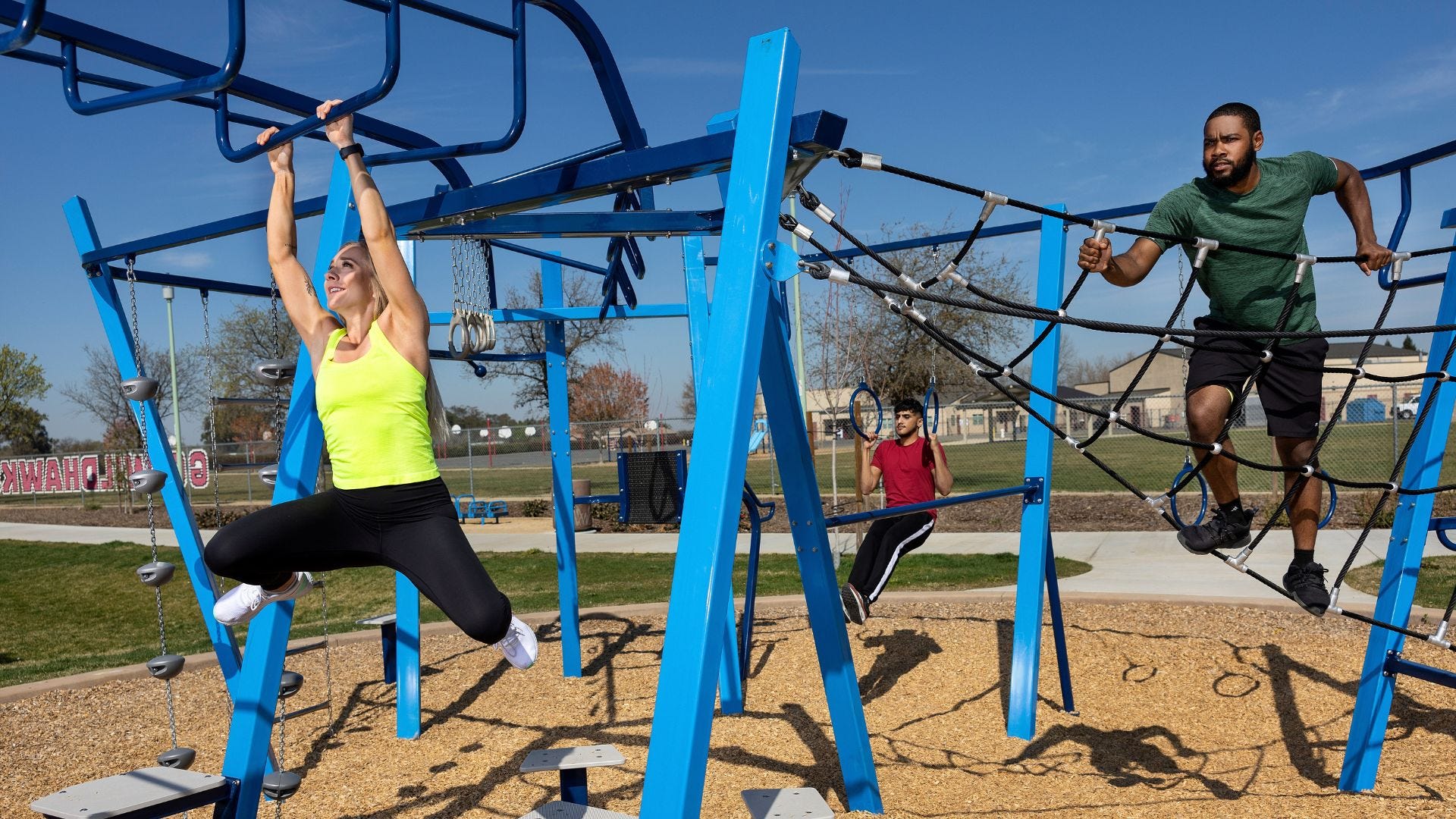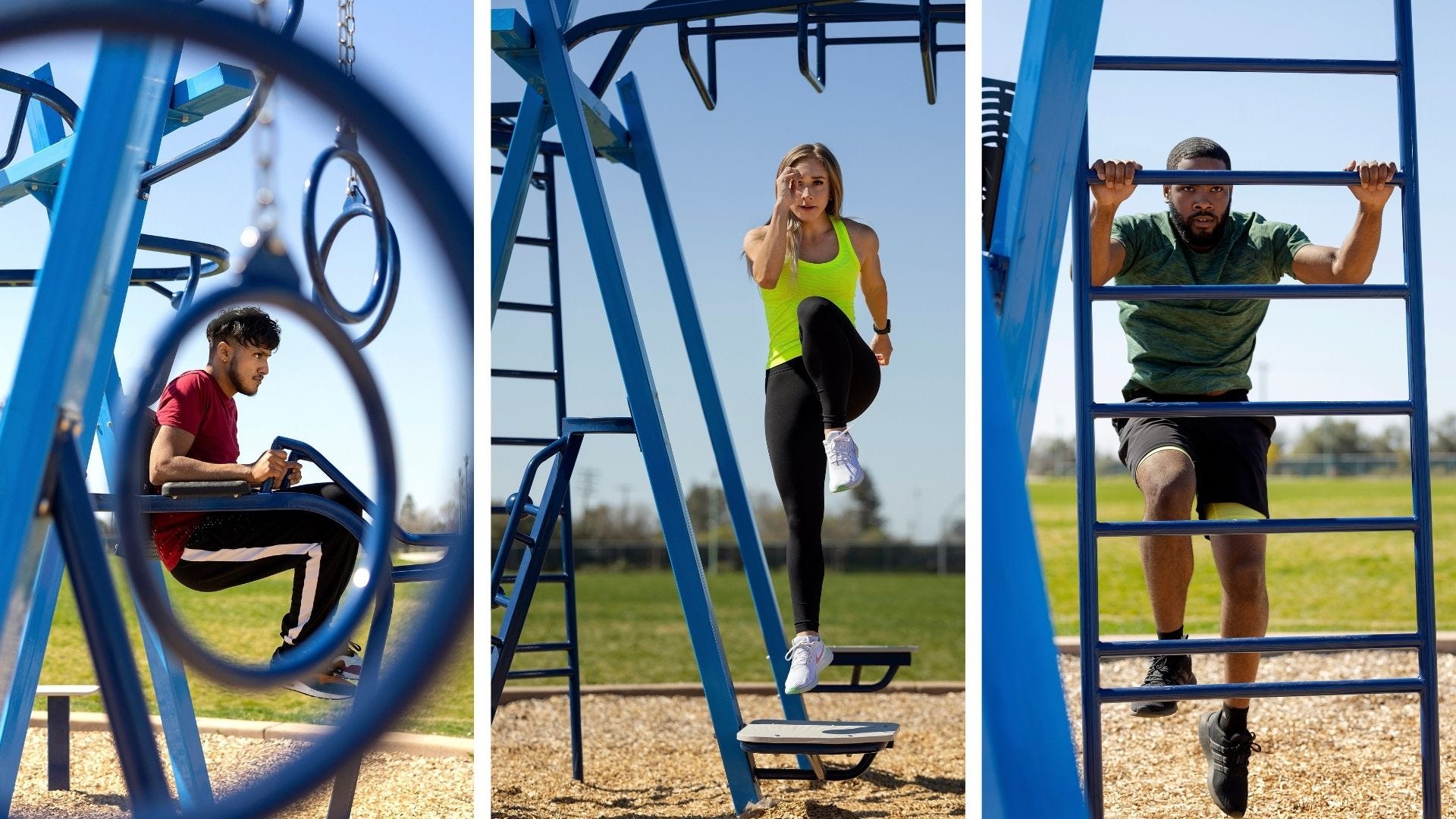 Larry Gury Park features an adult playground where adults can get a full-body outdoor workout. The outdoor gym features GameTime's THRIVE 900 outdoor fitness trainer. It allows up to 20 people to exercise simultaneously with trainer-designed workout programs for every fitness level. Whether you're a beginner trying to get active or a seasoned gym user, the outdoor fitness equipment at this California park can take your wellness to the next level.
Courtney's Playground - An Inclusive Playground That Celebrates Everyone
Amidst the desert terrain of Palmdale, California, there is a playground with everyone in mind.
Courtney Tirana grew up with a disability due to a traumatic brain injury. As she grew up and went to her local parks, she found that many California playgrounds were not structured for children of all abilities to enjoy.
After Courtney's passing eight years ago, the Tirana family decided to honor her legacy and build a park that everyone could play in. They named the park "Courtney's Playground" to forever serve as a heartfelt tribute to their daughter's legacy.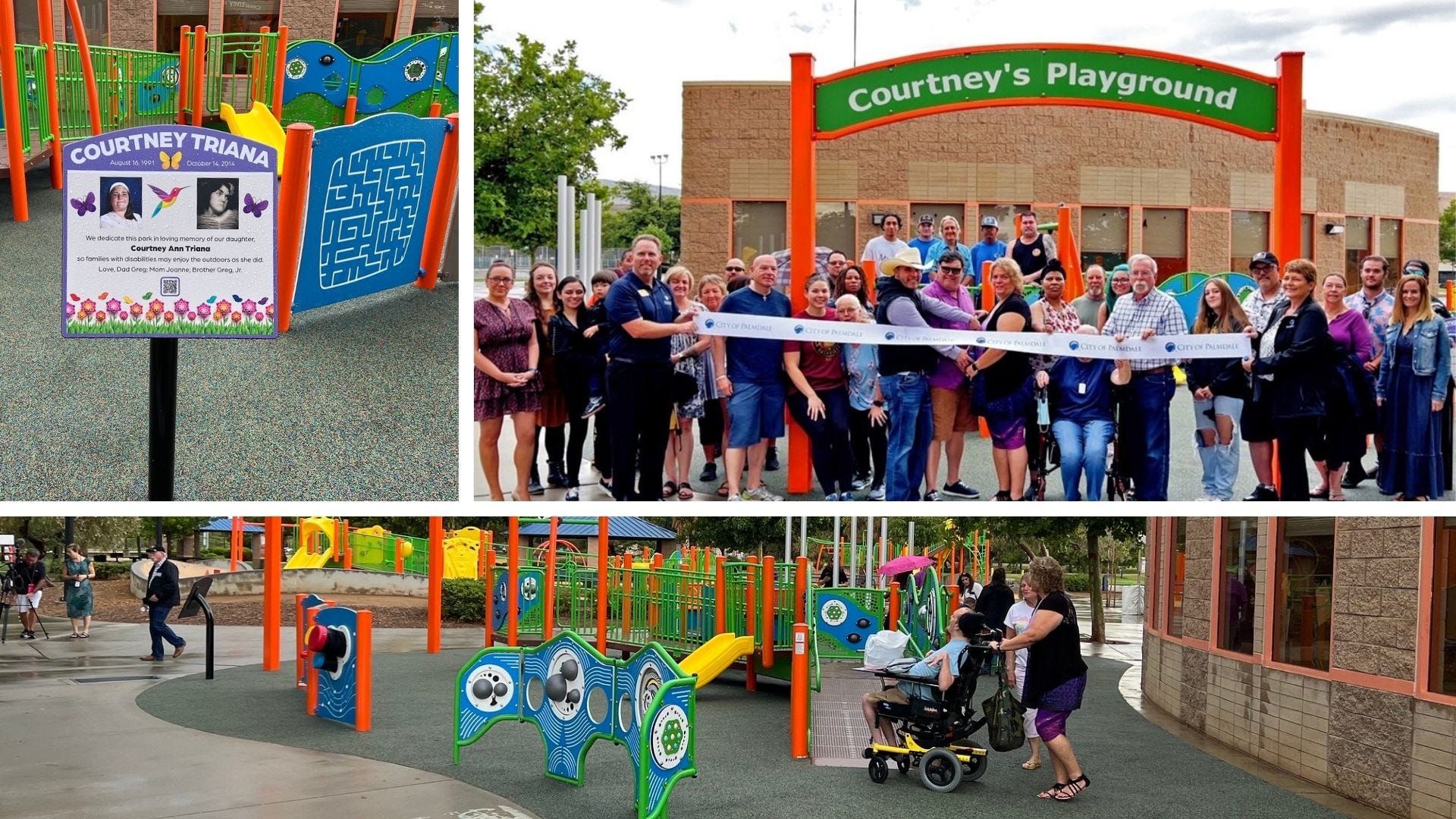 "People don't know what their needs are unless they have a disabled child. I didn't know before our daughter got injured what the needs were," Greg Tirana, Courtney's father, told an interviewer with Los Angeles' ABC 7.
The Tirana family hopes that Courtney's Playground can serve as a space where children of all abilities can thrive for generations to come.
Follow Your Dreams
These California playgrounds reflect the passion of those who live in the Golden State. They're rich with character and constantly pushing the limits of the status quo. Whether it's thoughtful theming, intergenerational opportunities, or honoring the life of a community member, you can expect some real stars when visiting California playgrounds.
Need help planning the next best playground in California (or anywhere in the world)? Contact a GameTime representative today to help you craft your outdoor dream destination.