Discover GTfit
GTfit outdoor gym equipment was designed to incorporate all the elements of a well-rounded fitness routine into outdoor fitness stations for users of all abilities and fitness levels. There are three series of GTfit outdoor workout equipment to help you build the best outdoor gym for your community.
All-Weather, Ergonomic Design
GTfit outdoor workout equipment is constructed of durable steel and plastic materials. The connections and resistance mechanisms are tamper-resistant; and the products are designed to be easily and comfortably used by most adults.
Part of a Multigenerational Recreation Plan
Add GTfit outdoor fitness stations along walking paths and trails or in a separate area near children's playgrounds so parents can exercise while children play. It's a great way for adults to set an example of a healthy, active lifestyle for their kids.
Removes Barriers to Community Health and Wellness
GTfit fitness parks are open when your parks are open, and available to the public. Our products can be installed almost anywhere, making them a convenient way to bring better health to all neighborhoods.
GTfit Advanced Series
Designed to look like popular products found at professional health clubs, the Advanced Series is familiar to beginners and experienced users, alike. The collection features our exclusive variable and magnetic resistance technologies for smoother movements and lower maintenance requirements.
Accessible Equipment
Installing accessible, inclusive outdoor fitness equipment is a great way to make sure everybody in your community has the ability to get active, no matter their ability.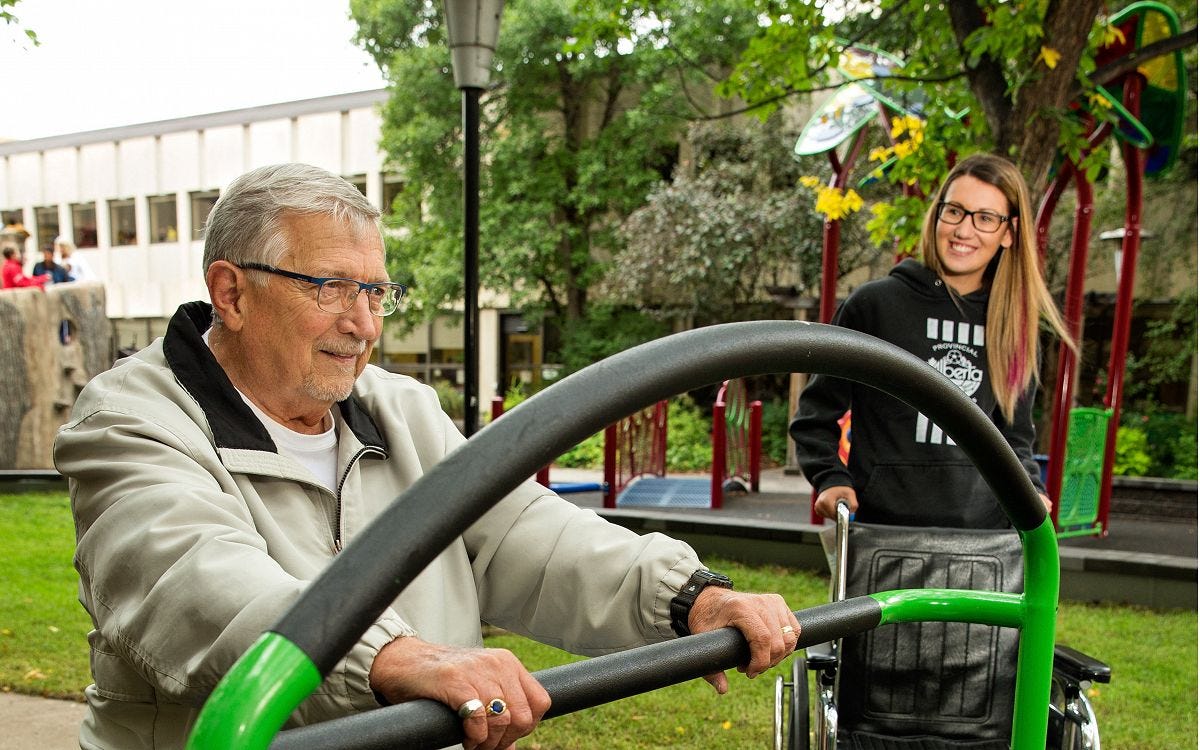 Therapeutic Fitness
Specially designed to provide extra support for users ages 50+, our therapeutic fitness products offer additional benefits for older adults who enjoy exercising outdoors.
Fitness Packages
Select one of our many predesigned equipment configuration packages to make it easy to bring outdoor fitness to your local park.
Important Disclaimers
Consult with your physician before beginning any exercise program. You should be in good physical condition and be able to participate in the exercise. GameTime is not a licensed medical care provider and has no expertise in diagnosing, examining, or treating medical conditions of any kind, or in determining the effect of any specific exercise on a medical condition.
The information provided is not intended as substitute for professional medical advice, diagnosis or treatment. Never disregard professional medical advice, or delay in seeking it, because of something you have read on this website. Never rely on the information on this website in place of seeking professional medical advice.
You should understand that when participating in any exercise or exercise program, there is the possibility of physical injury. If you engage in an exercise or exercise program, you agree that you do so at your own risk, are voluntarily participating in these activities, assume all risk of injury to yourself, and agree to release and hold harmless GameTime from any and all claims or causes of action, known or unknown, arising out of using products manufactured by GameTime.
GameTime is not responsible or liable for any advice, course of treatment, diagnosis or any other information, services or products that you obtain or infer through this site. You are encouraged to consult with your doctor with regard to this information contained on or through this website. After reading articles, watching videos or reading other content from this website, you are encouraged to review the information carefully with your professional healthcare provider.