We Know You Want to Improve Community Health
When we speak with parks professionals or campus recreation departments, they ask us, "what can I do to encourage adults to be more active outdoors?" When looking for that answer, they often focus on walking paths and open green spaces, rather than outdoor exercise equipment or outdoor workout areas.
We Build Outdoor Fitness Spaces People Love
We can all agree parks and outdoor spaces are essential for improving the physical and mental health of adults and families. That's why our answer is purposefully-designed outdoor fitness spaces based on best practice research with exercise in mind. This answers the common question of how to get more adults to be active outdoors, and it can increase overall usage of your outdoor recreation areas.
Combining High Quality Fitness Equipment With Research & Data
GameTime provides outdoor fitness equipment to help communities be more active and combat the health risks associated with overweight and obesity. Using a comprehensive portfolio of outdoor fitness products, we apply best practice research to create a complete solution. Eligible projects qualify for usage analysis to help you determine the effectiveness of your space with real data.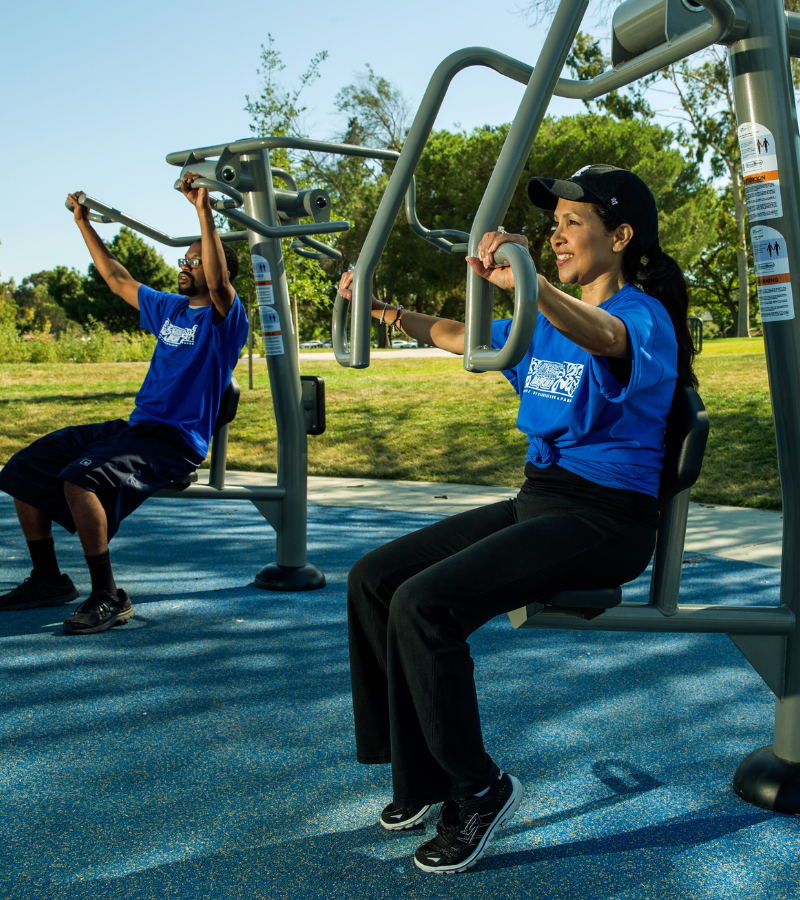 Case Study
Fitness Options for All Abilities
Ken Malloy Harbor Regional Fitness Park
Ken Malloy Harbor Regional Park is the site of one of the largest outdoor fitness parks in the Los Angeles area. It includes three distinct areas of fitness products: standard (bodyweight and motion products, including accessible/inclusive options), therapeutic (designed specifically for users age 55 and up), and elite (advanced training options for athletes). Each fitness area is installed on color-coded safety surfacing and includes instructional signage. Adults and older teens use the park on a regular basis to achieve their health and wellness goals, and personal trainers routinely schedule bootcamp classes and other group fitness sessions.
Here's How We Do It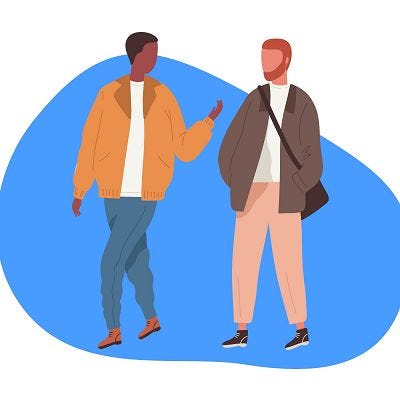 Listen and Learn
Every community is unique, and your outdoor fitness solution should be, too. Our outdoor fitness experts will meet with you to better understand your needs, budget, and available space. From the first meeting to the grand opening, you'll have experienced and local support every step of the way!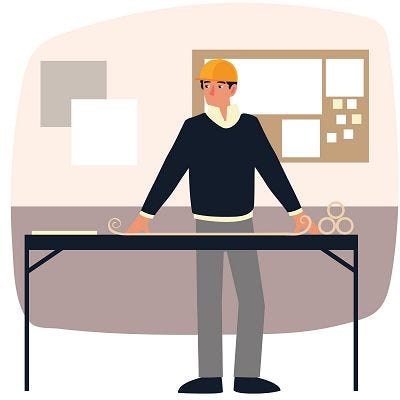 Design and Build
GameTime offers a comprehensive portfolio of outdoor fitness equipment. Our design experts will help you select the right combination to design a fitness space that meets your needs. With local certified installers, you can be assured your outdoor fitness equipment will be built to our specifications and your expectations.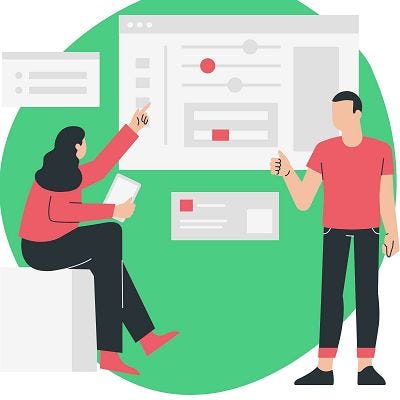 Report the Results
Outdoor fitness spaces that meet the requirements for National Demonstration Site status are part of a nationwide data framework. As your park is utilized, we compile the usage data into useful reports that show the positive impact you're making on the community.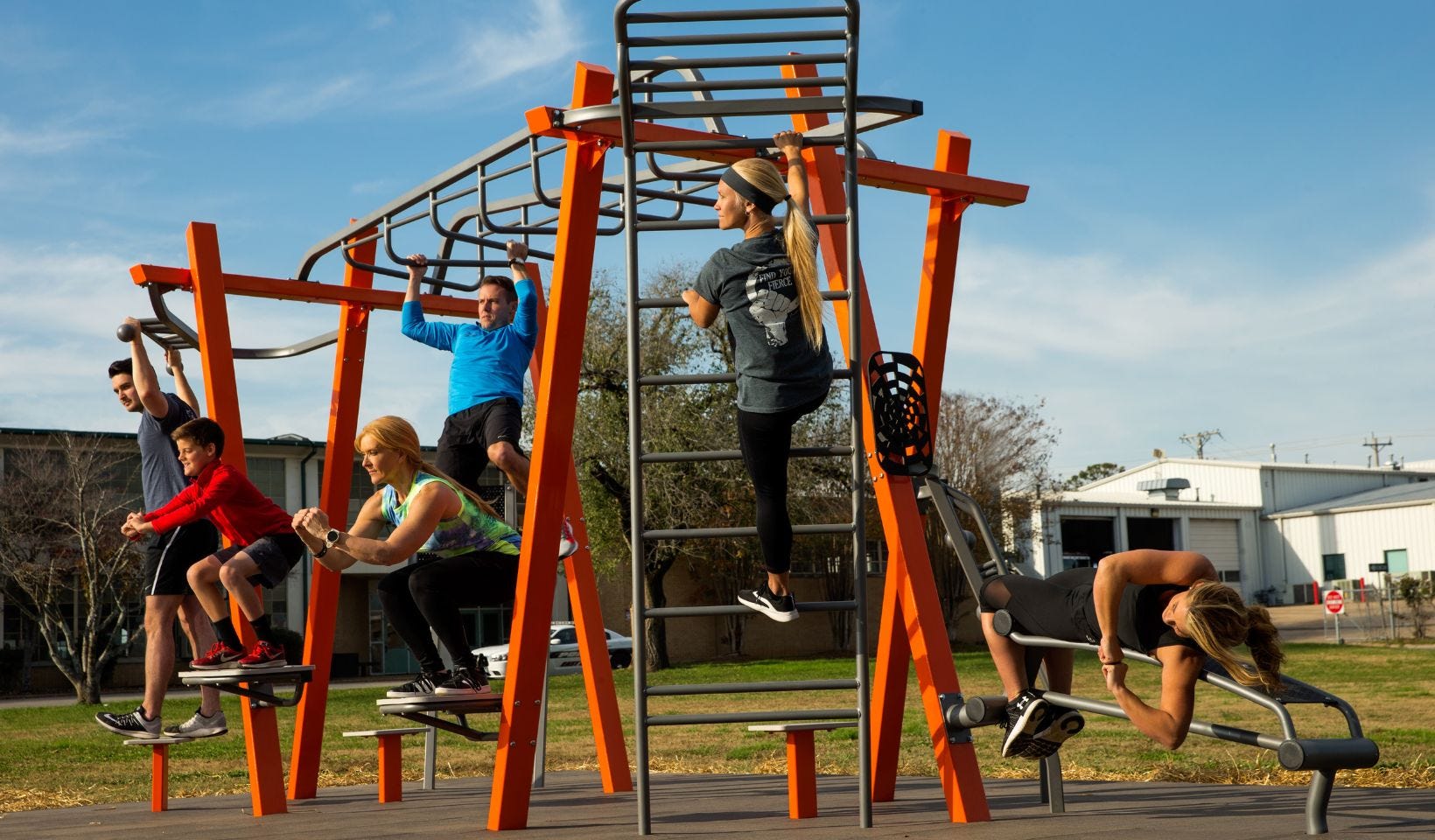 THRIVE Compact Functional Outdoor Gym
THRIVE outdoor fitness systems accommodate multiple users at once with up to 20 fitness stations in as little as 250 square feet. Its compact size makes it easy to create an outdoor gym for people of all fitness levels.
Challenge Course Outdoor Obstacle Courses
Challenge Course is great way to encourage adults and families to be more active outdoors. These ninja warrior style outdoor obstacle courses combine challenges with timing systems for fun, friendly competition.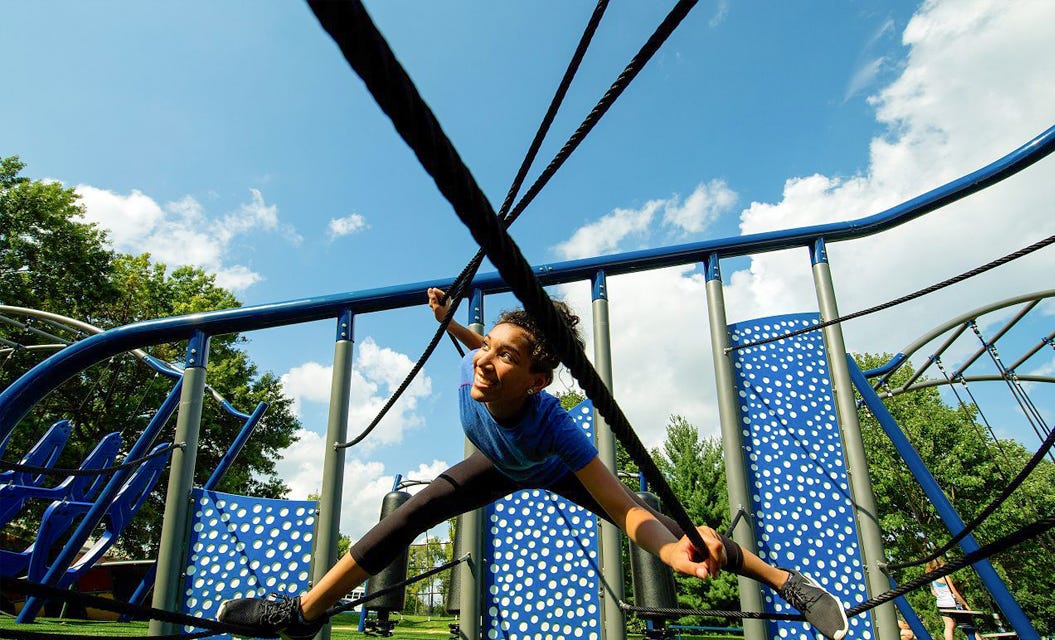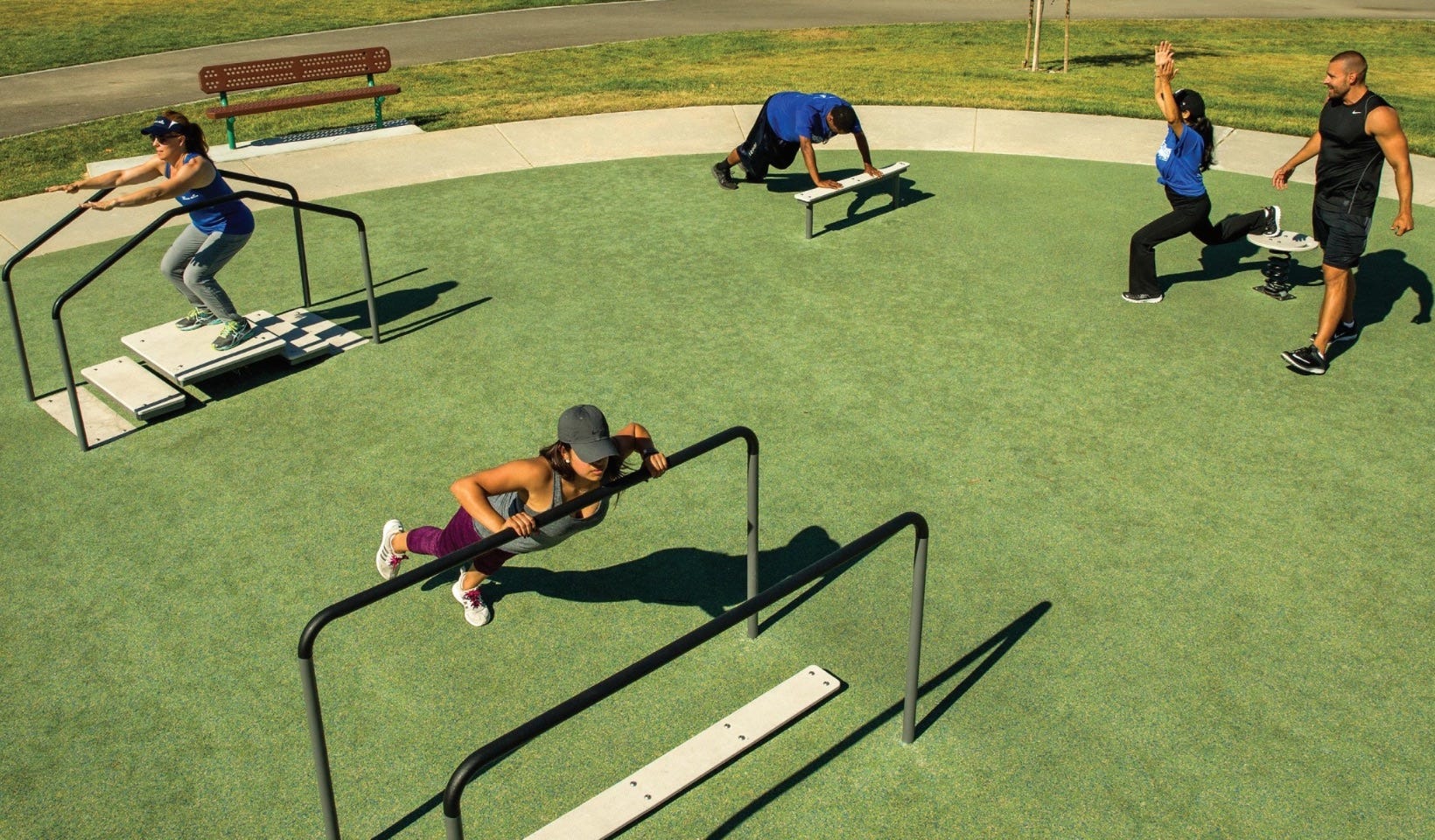 GTFit Outdoor Fitness Equipment
GTFit outdoor fitness products provide a well-rounded fitness program for adults of all ages and fitness levels and include accessible options and products specifically designed for users over the age of 50.
Custom Outdoor Fitness Equipment Designs
Personal fitness is personal. If you want to personalize your outdoor fitness space, GameTime's Landmark Design Team can help create the perfect fit for your community.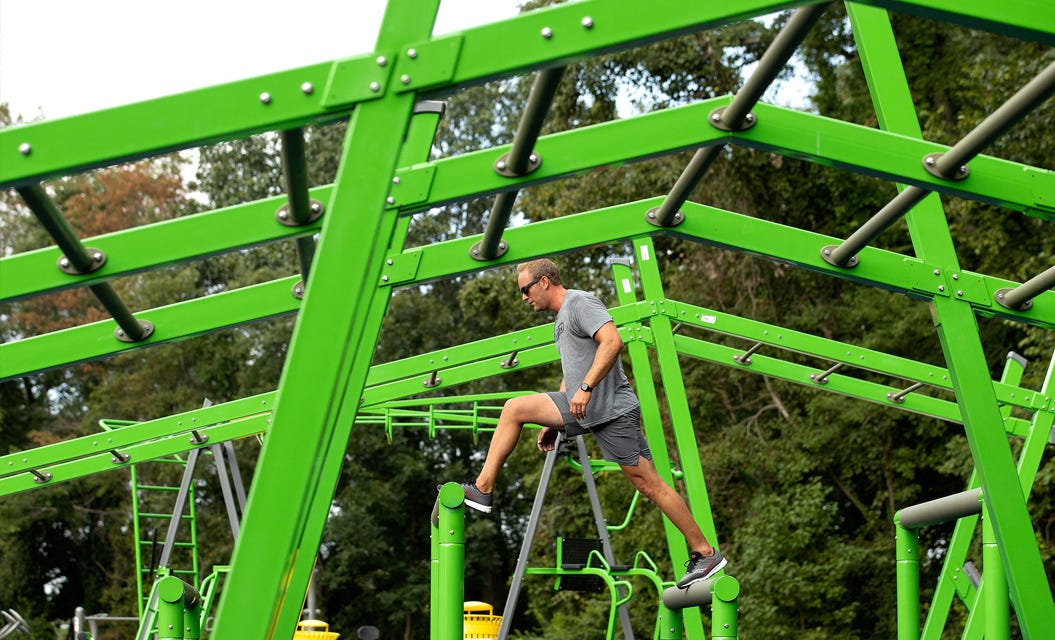 News from GameTime
Check out the latest news and information about outdoor fitness equipment from GameTime.
September 25, 2023
Spending time outdoors to exercise is beneficial for physical and mental health. Outdoor fitness equipment helps communities create outdoor gyms and workout areas  in local parks. These outdoor fitness spaces allow people of all ages and abilities to exercise and enjoy the outdoors. 
Read on to learn four benefits of adding outdoor fitness equipment in your parks and public spaces.
1. Outdoor Fitness Equipment Encourages Physical Activity

Outdoor fitness equipment can motivate non-regular exercisers to start their fitness journey, especially if they already visit the park often. Plus, exercising outside is more fun than indoors, so people are more likely to keep up with their workout routine.
August 03, 2023
Haverford College is a private liberal arts college in Haverford, Pennsylvania. The college has a long history of promoting student health and wellness, and in recent years, it has made a concerted effort to encourage students to be more active outdoors.
In 2023, the college opened a new outdoor fitness space called THRIVE. The space was designed by GameTime, a leading manufacturer of outdoor fitness equipment. THRIVE features a variety of cardio and strength-training equipment, as well as a shaded area for stretching and relaxing.
The THRIVE outdoor fitness space is open to all Haverford students, faculty, and staff. The space is free to use, and there are no reservations required. THRIVE is located near the college's athletic fields, and it is open from dawn to dusk.
May 12, 2023
GameTime, a leading provider of outdoor recreation and fitness equipment, is excited to announce it is returning as a Diamond Sponsor of the 2023 Campus Rec Summit. The event will be held June 20-22, 2023 at the Hyatt Regency Coconut Point Resort & Spa in Bonita Springs, Florida.
The Campus Rec Summit is an annual event that brings together campus recreation leaders from across the country to learn, network, and collaborate. The summit will feature a variety