One way our designers make a new playground look and feel complete is with park amenities and accessories. Seating areas, shade structures, and other accessories make a playground more inviting and comfortable for everyone. One study found the addition of park benches enhanced the mental health and emotional wellbeing of visitors.
Read on to learn how to accessorize your park or playground with park amenities that encourage everyone to enjoy your new recreation area.
What are Park Amenities and Accessories?
When designing a playground, most people look at the swings, slides, and climbers to fill a space within a specific budget. But there are many site furnishings you can consider adding to increase your playground's functionality and visual appeal.
1. Park Benches and Seating
The most common park accessory is seating. GameTime offers a wide range of seats, benches, and tables in different colors and styles. A good rule of thumb is to add at least two park benches or seats per playground structure for parents and children to rest and socialize.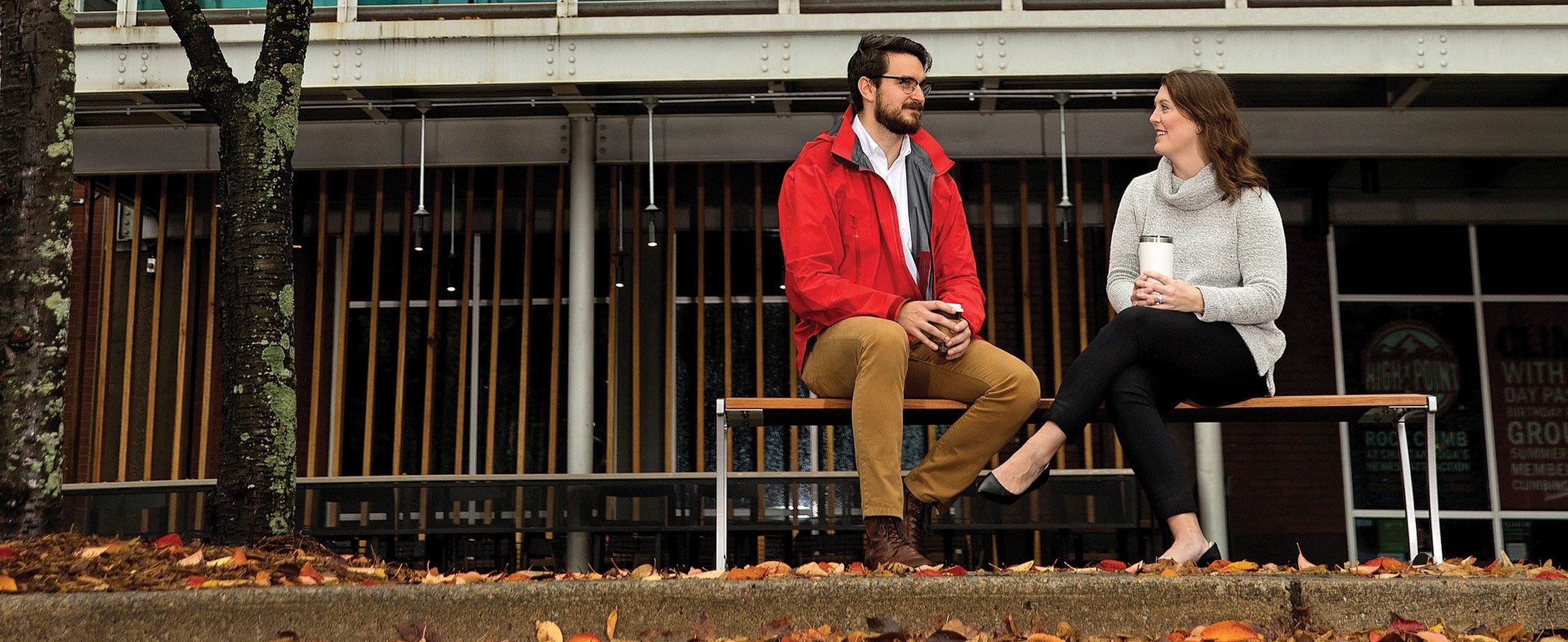 It's also essential to install park benches and seats in a way that encourages people to use them. When benches do not face activities or areas of interest, they are less likely to be used. Other factors to consider when creating seating areas are access, comfort, relationship to scenic views, sun, and shade.
2. Keep Things Cool with Shade Structures
Playgrounds often use integrated or freestanding shade structures to help kids stay cooler and more comfortable during play. You can also add shade structures and shelters to seating areas, gathering spaces, or fitness/sports fields. Parks with natural or manufactured shade are more comfortable and inviting for people of all ages and abilities.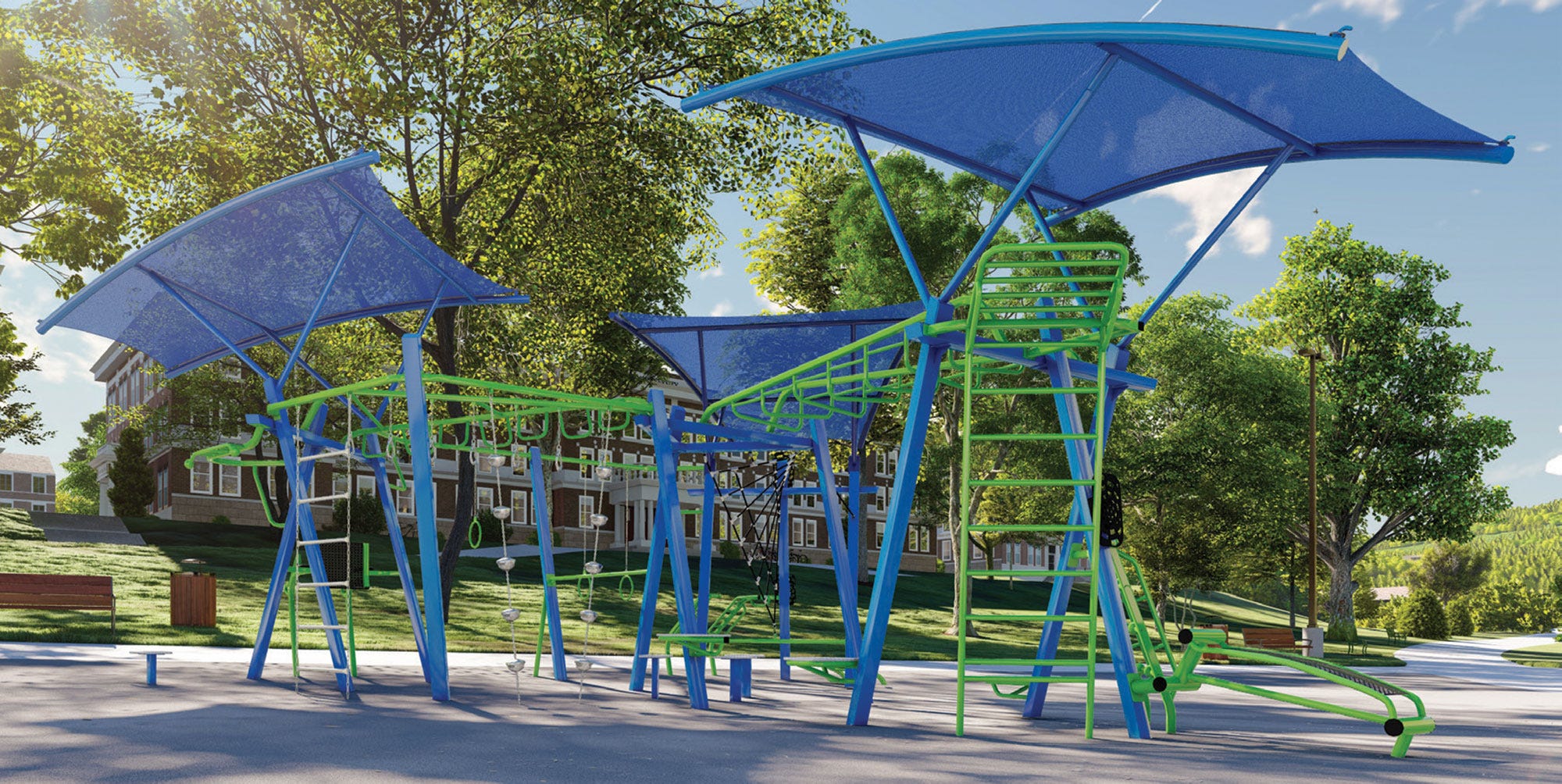 Look for shade structures that block up to 97% of harmful UV rays and have a wind load rating that is appropriate for your area of the country.
3. Keep Your Park Clean With Litter Receptacles
Consider adding litter receptacles throughout your park or playground to encourage visitors to dispose of litter and recyclables properly. This makes the park more attractive to visitors and helps save maintenance and cleaning time.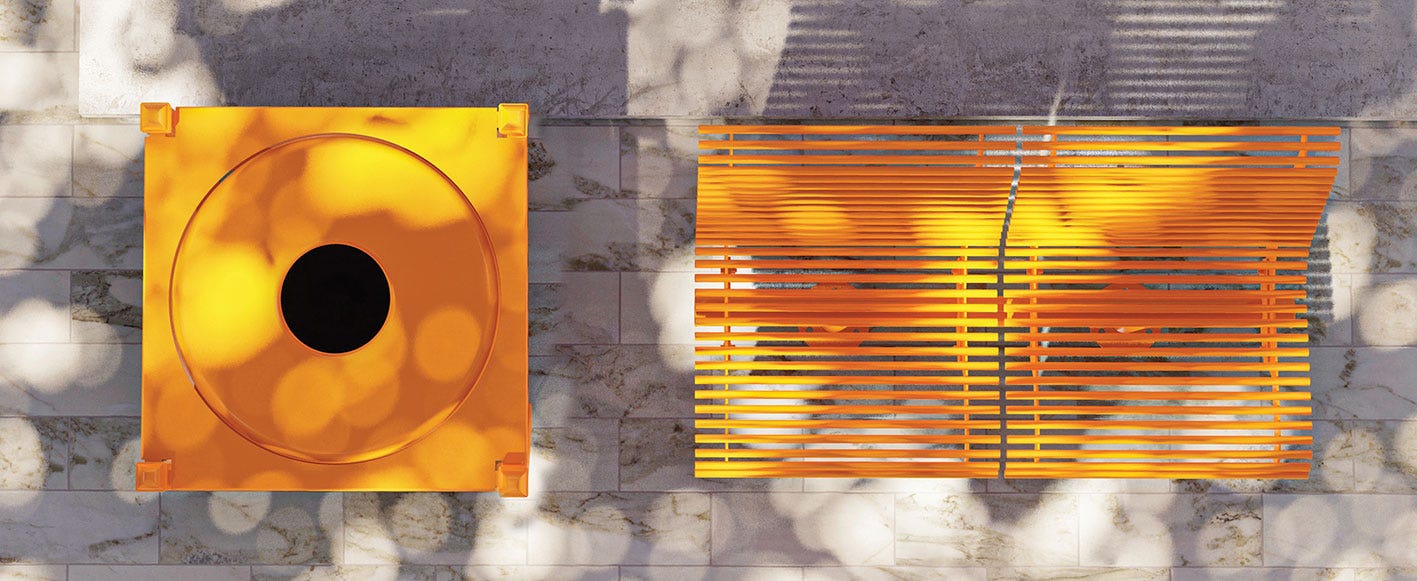 If dog owners frequently visit your park, consider adding dog waste bag dispensers and disposal bins.
4. Keep Bikes Safe and Secure with Bicycle Racks and Storage Options
Research shows more people are using bicycles for transportation and recreation. Add bike racks to your park or playground to give cyclists a safe place to store their bikes while walking or playing.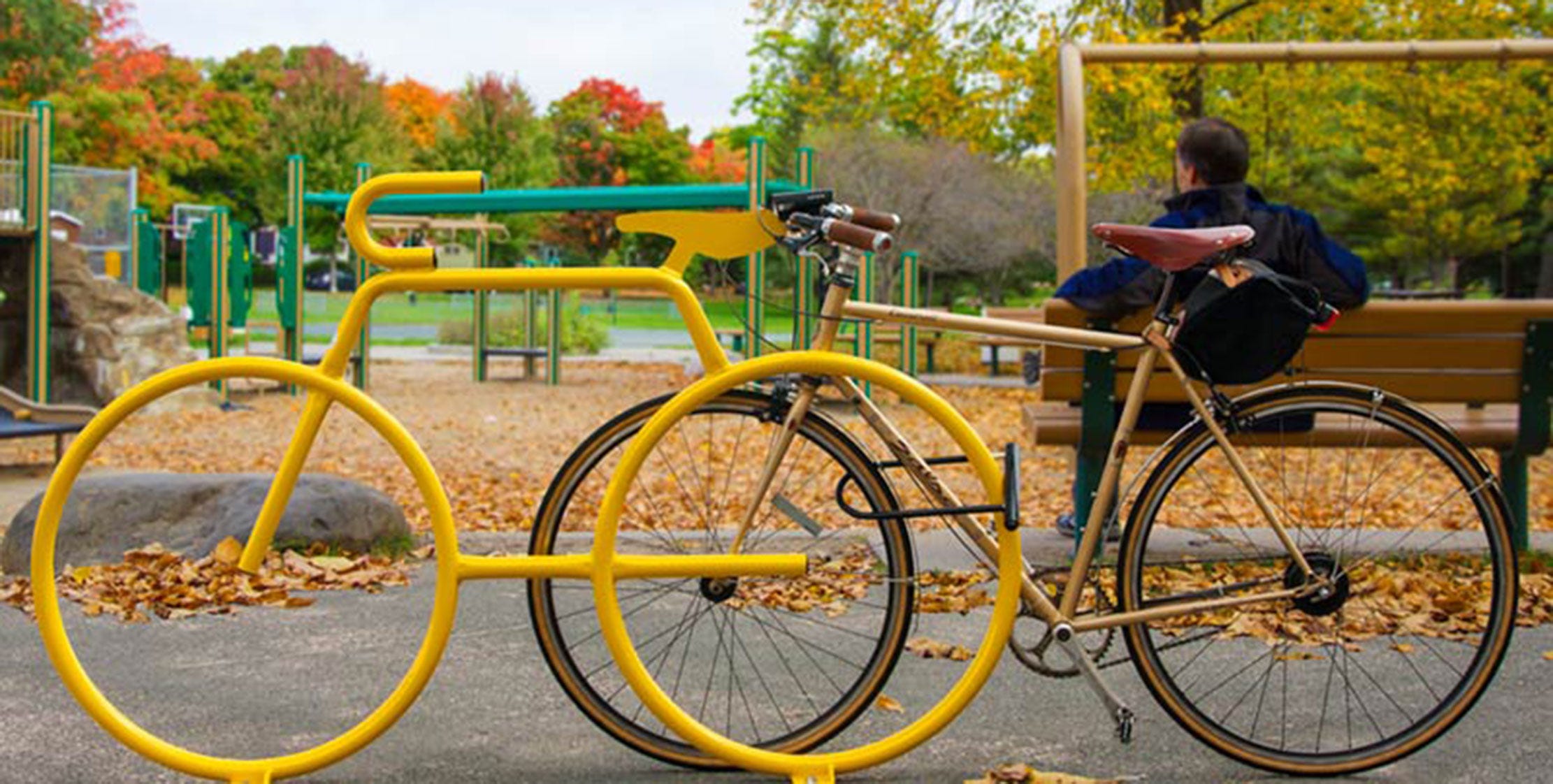 GameTime offers many standard bike rack options and our Landmark Design team can create custom bike racks to complement any style or theme.
5. Support Community Health and Safety
Hand sanitizer, social distancing, and face masks are commonplace in our society. Help reduce the risk of germs with outdoor hand sanitizer stations. GameTime's lineup of hand sanitizer lockboxes makes it easy to add hand sanitizer anywhere in your park or playground.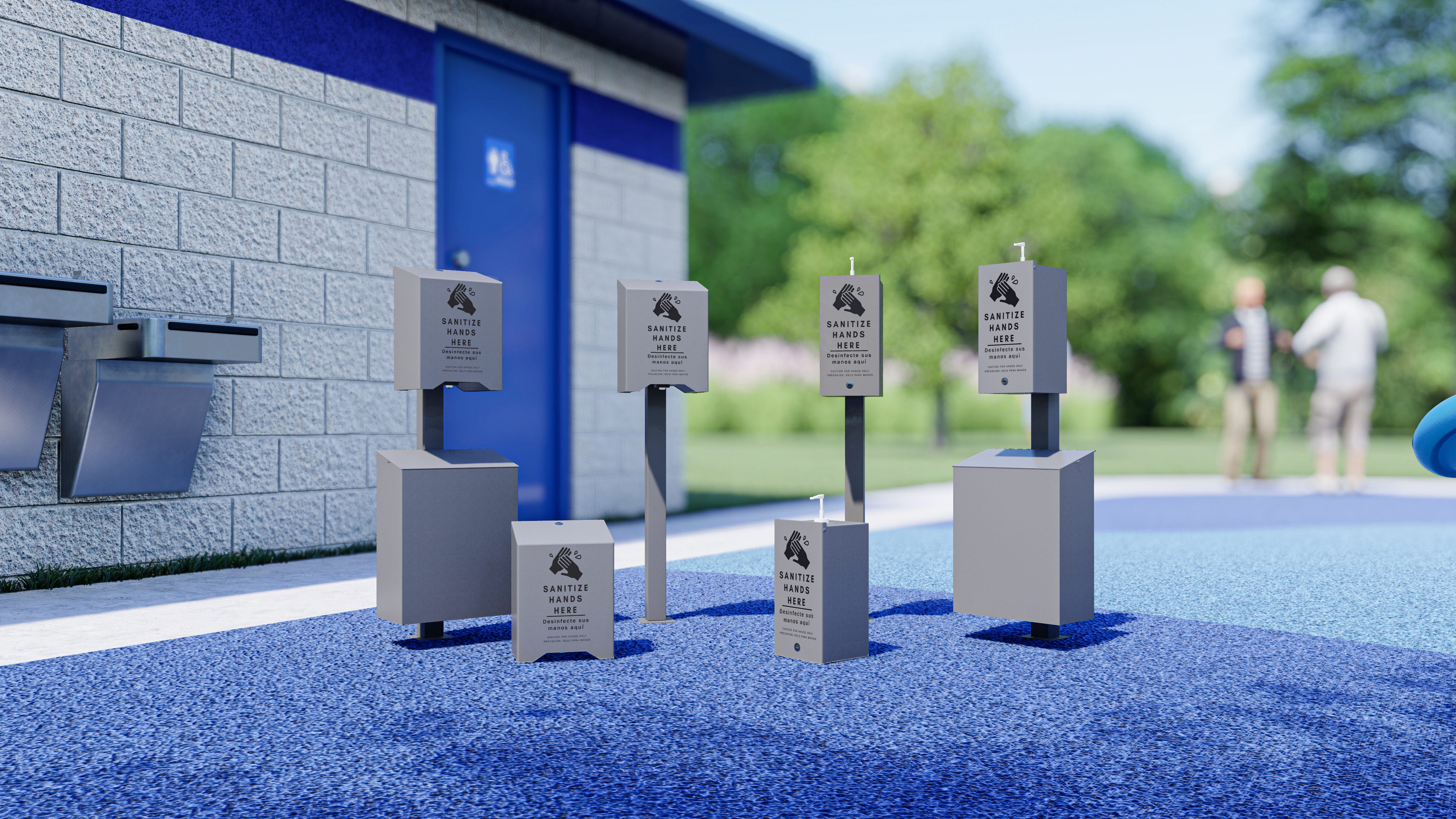 We can also help with custom signs, maintenance and cleaning protocols, and other measures to ensure playground and park equipment are in proper conditions.
6. Make a Big First Impression
Greet your park or playground visitors with a custom entrance. It's an excellent way to make a great first impression. Whether you want to display the park's name, recognize donors, or display directions to different recreation areas, a big, bold entryway will do the trick!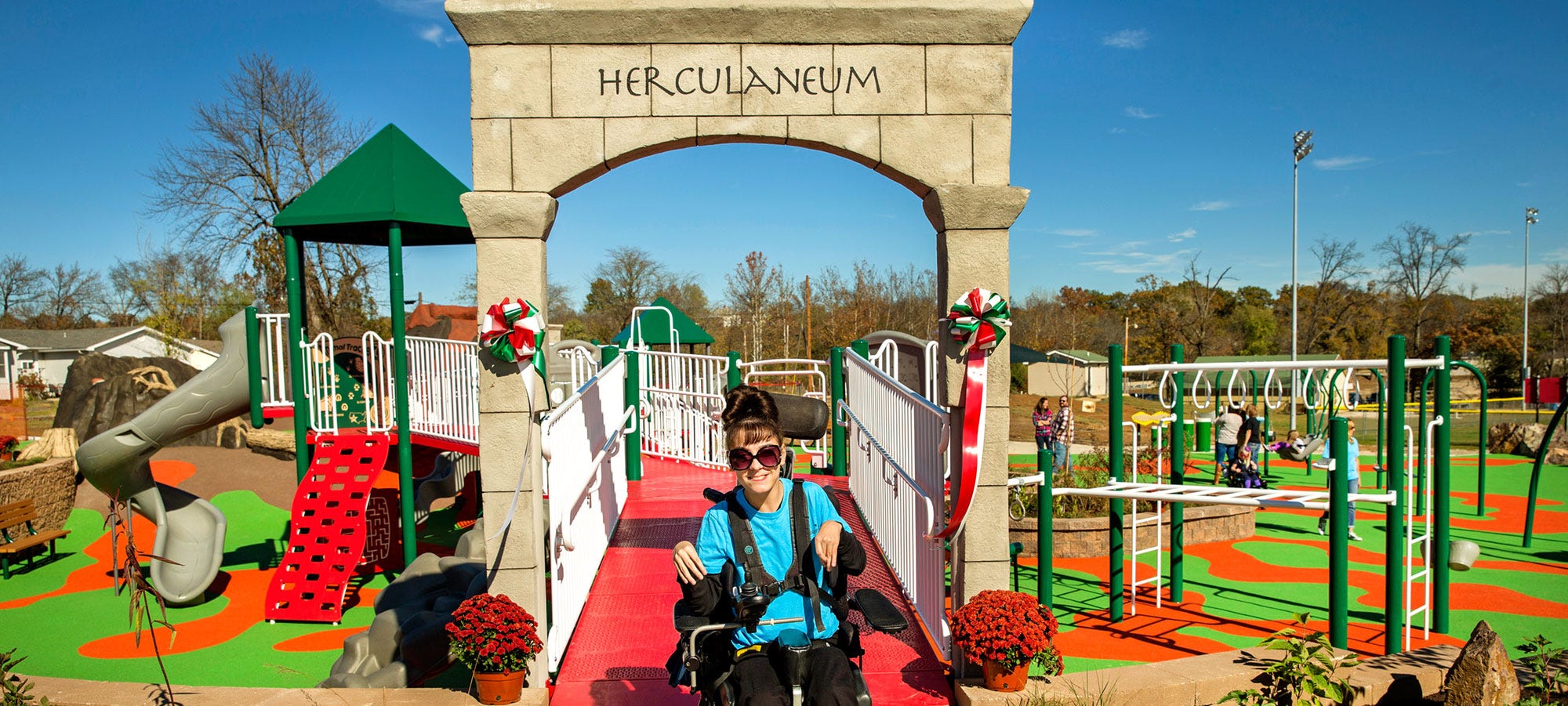 GameTime can help you design a custom entryway that matches the style and theme of your playground.
Park Amenities and Accessories Complete the Space
Whether you are building a park, playground, or outdoor fitness area, park accessories help complete the look and functionality of the space. Consider benches and seating areas to give people places to rest and socialize. Shade structures help keep areas cooler and more comfortable.
For visitors who ride bicycles to your park, it essential to provide places to park or store their bikes safely. And everyone will appreciate litter receptacles that help keep things neat and tidy.
Regardless of the park accessories you need, GameTime can help with stylish options that match any color or theme. Contact the GameTime specialist in your neighborhood today to learn more.